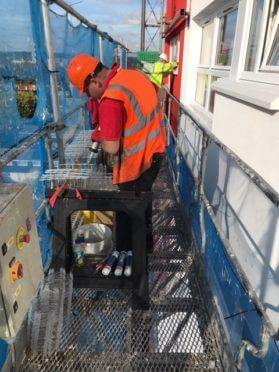 Tasked by our client to pigeon proof all areas of a series of high tower blocks on the South Coast. Following a complete survey by our Southampton surveyor, it was agreed that pigeon spikes were the most effective option and were to be used on all possible perching spots for pigeons.
Bird spikes are discreet and if installed correctly should be hard to see from a few meters away. The system does not harm the birds but does prevent them from landing.
Due to the refurbishment works overrunning, our specialist bird team had a narrow window to complete the works, but using the mast climber on site we were able to access all applicable areas of the building. Once the mast climbers are removed from site, the six refurbished towers will remain pigeon free.
If you are interested in any of our bird control systems, or have any further questions regarding the what we can offer you please contact us on 01235 819511 or click here to contact us for a free, no-obligation site survey.