Bird Netting is one of the more popular methods of Bird control.
A correctly installed system is very difficult to see from a distance. This therefore makes bird netting an aesthetically pleasing method of bird control.
A netting system that is left untouched should have a lifespan of 10 + years and requires no on-going maintenance.
The system does not harm the birds, merely prevents them from accessing a specified location.
As part of our netting service, Total Pest Control can offer:
New Bird Netting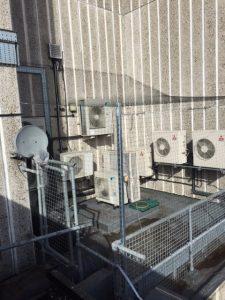 Total Pest Control can install new netting systems to all most any area of a building at any height or angle. All of our bird control technicians hold IPAF and Abseil licenses resulting in height not being an issue for any of our work.
Re-instating / Repairing Bird Netting:
Total Pest Control can completely replace old nets using the original fixings or simply repair sections of netting.
Zips:
330mm, 500mm, 1000mm and 2000mm zips can be installed into netting to allow access for maintenance to such things as air-conditioning units or lights through the net line.
The Next Step
All of our pigeon and bird netting work is completely tailor made to your particular circumstances. Please call Total Pest Control today on 01235 819511 to arrange a free, no-obligation survey from one of our specialist bird control surveyors. Alternatively, use the contact buttons below: