Finding rats in your garden can be alarming. The key is not to panic or worry. Instead, you will need to think about what has attracted them to your property, as well as taking measures to eliminate them. Left untreated, a small rat issue can quickly spiral out of control. They can carry diseases, as well as having the potential to cause damage to the fabric of buildings. Read through below to see why rats may in your garden, and get in contact with us to get rid of rats in your garden today.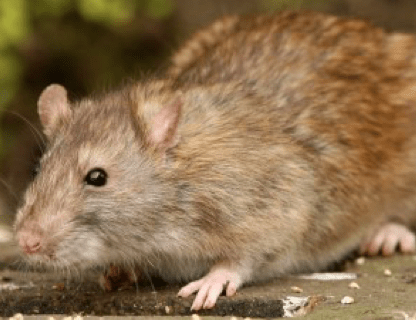 What Do Rats Need To Survive?
Food
The main reason rats have found their way to your property is for food. Natural scavengers, this can manifest itself in a number of ways. It is very important that you keep all food waste secure. In addition, your external bins should not be overflowing, and no bin bags left on the ground. Pet food that may be kept in sheds or garages should be stored off the floor, in a thick plastic or metal container. You should regularly remove any fallen fruit you come across in the garden. Bird feeders are also another potential food source. If you suspect rats in your garden, it is advisable to temporarily remove these.
2. Water
Rats can unfortunately scavenge water from a number of places. However, the key is to remove any other obvious areas of water. This may be pet dishes left outside, a leaking tap, or containers collecting rainwater.
3. Shelter
Rats love shelter. To make your garden less appealing for rats, you will need to remove possible sources of shelter. For best practice, remove any build up of rubbish, or garden waste quickly. Ensure your lawn is well maintained, and all bushes are cut back.
What Are The Signs Of Rats?
Droppings
Rat droppings look like a grain of rice. They are dark brown in colour, as well as about 10mm long.
2. Footprints
Rats move about a lot, especially at night. You may notice footprints on slabs, or in the ground if the conditions are wet.
3. Burrows
To make their own shelter, rats can sometimes dig burrows. You may see small holes in your lawn. These may be particularly noticeable near compost heaps.
We Can Help Get Rid Of Rats In Your Garden….
At Total Pest Control, we have over 30 years experience in helping to get rid of rats in gardens. We offer a fast service, with a quick turnaround from your first call. Our prices are extremely competitive. As standard, we will offer you:
On-site survey by our technicians before starting treatment. They will be trying to identify access points, as well as thinking best places to position our equipment.
A promise that you will receive a visit from a fully trained, RSPH/BPCA Level Two technician.
Professional service using the most effective products
Electronic reports sent via email outlining our actions taken, as well as noting any recommendations that we make
Technicians looking for proofing measures to prevent the rats returning in the future
If you need to get rid of rats in your garden, follow the advice above and give us a call today to book your appointment. Alternatively, you can fill in an online enquiry.