Found Weevils in your stored grain?
Found out more below about these pests, and what you can do to eradicate them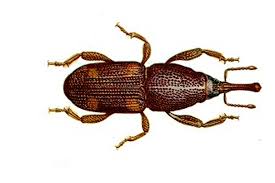 ---
What Are Grain Weevils:
Grain weevil is indigenous to the UK
They have a plain black back, as well as long noses
Left untreated, they will ruin high quantities of stored grain
Grain sent off will be rejected if it is found to have a weevil infestation.
Grain Weevil Treatment:
The most successful treatment is fumigation.
Aluminum phosphide gas will penetrate through to all life stages of the grain weevil
After approximately 14 days, the infestation will be eradicated.
---
Why Use Total Pest Control?
We hold nearly 5* review rating on Trustpilot
We have over forty years of experience with all types of grain infestations
We have all the relevant licenses, and certificates to carry out treatments safely and effectively
We offer coverage across the UK
We promise a same day call back
Do not let weevils ruin your hard work, call us direct 07860 384560, or click here to send an email.