Have you recently had solar panels installed? Are you noticing pigeons perching, or nesting, under the solar panels? The gap between the panels and the roof provide the perfect shelter for pigeons. Left untreated, they can cause considerable damage to your solar panels. This will reduce their overall effectiveness, as well as shortening their lifespan. Take action today. We can help with pigeon proofing of your solar panels. We're so confident with our results, we guarantee you will have no pigeons under your panels.
Why Should I Take Action To Pigeon Proof Solar Panels?
Solar panels come with a high up-front cost. Their benefit and value is for them to work for a number of years. Therefore, it is important to take action as soon as you notice pigeons near them.
1. Damage
Pigeon guano is corrosive. Left untreated, it becomes harder to clean. Depending on where they are perching, their poo can cause wires to rot, or damage the main surface of your panels. Heavier pigeons may also cause structural damage by disturbing clips, or other fixings.
2. Eye & Ear Sore
You do not need a pest control professional to tell you, everyone knows pigeons are both messy and noisy. The more pigeons on your property, the greater the noise disruption through the roof each morning, or whilst your employees are working. Additionally, the more pigeons on your property, the more pigeon mess visitors to your home our business see
3. Impact On Effectiveness
Pigeon guano on the main panels will impact on their effectiveness. Over time, the yearly saving that the panels offer will reduce.
4. Carriers Of Other Pests
Pigeons can carry a number of different bird mites. These can find a way into your home or business, and you would require insecticidal pest control treatments to treat.
How Do I Stop Pigeons Under Solar Panels?
There are two options to consider when trying to stop pigeons nesting under your solar panels.
1. Housekeeping
It is important to try and make your home or business less appealing to pigeons. Good housekeeping, such as removing outdoor food sources, keeping trees near your property trimmed back, can help to limit pigeons finding their way on to your roof. Additionally, these measures will also make your property less appealing for other pests such as squirrels, rats, and mice.
2. Professional Help – Pigeon Proofing Solar Panels
Should the first option not succeed, or should there be a high level of activity, a professional solar panel pigeon proofing solution is the best option. Dependent on your specific issue, we will use a mixture of spikes, netting, as well as industry leading solar panel exclusion mesh.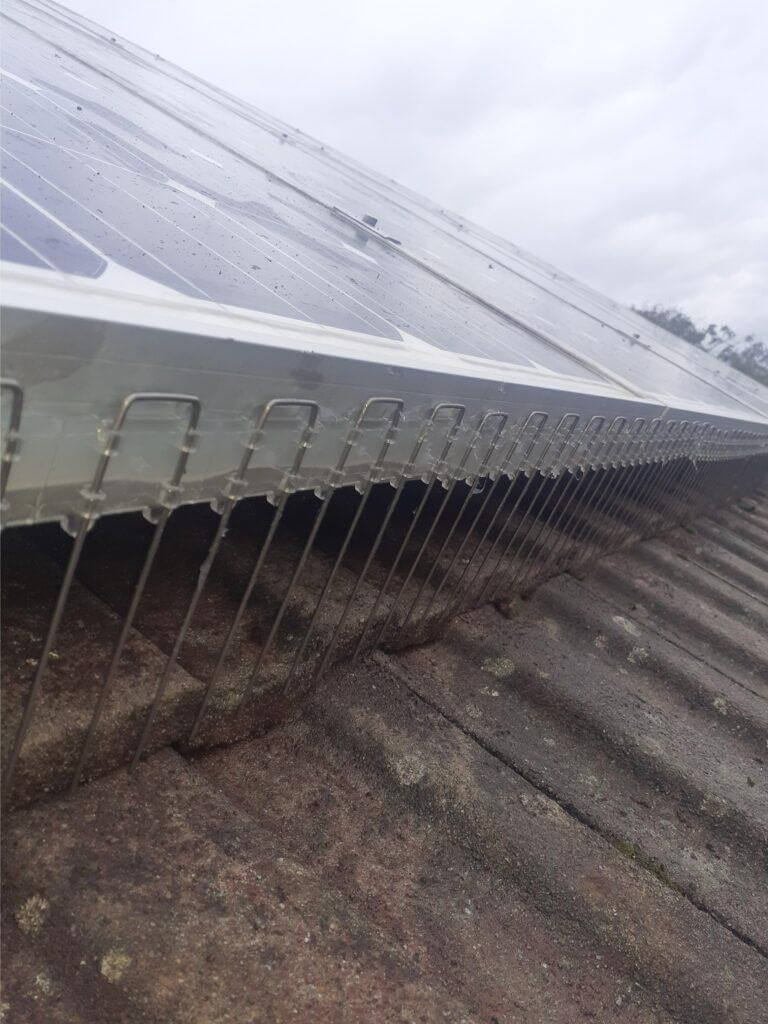 How Much Does Pigeon Proofing Solar Panels Cost?
We do not offer a set price for pigeon proofing of solar panels. This is because each job is different. Solar panels come in different shapes as well as sizes. Additionally, access requirements for a bungalow are likely to be different in comparison to a three-storey town house. Sometimes scaffolding is needed for us to work safely. This will impact on the overall price. There are further issues to consider, such as the level of fouling on site, as well as the number of pigeons.
Instead, we guarantee to offer you a free site survey. Our RSPH / BPCA trained surveyors will assess your requirements, as well as what access is needed for us to work safely. They will provide you a no-obligation typed quotation. We are constantly assessing our prices in comparison to others. This is to ensure they remain highly competitive at all times, across all areas we cover.
Whether you are based in Devon, Bristol, Hampshire, Oxfordshire, or anywhere else in the South East, South West, Midlands, and London we are here to help. We have over 4.5 rating on both Truspilot & Google.
Book your free site survey by calling us on 0800 772 0554, or by filling an online enquiry here.